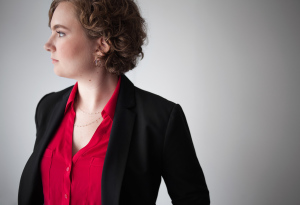 Kristen Seikaly is a writer, singer, and voice teacher with a focus on opera and classical music. Born and raised in Michigan, she earned a Bachelor of Music with a minor in French from the University of Michigan. Afterwards, she moved to the east coast to earn her Master of Music in Voice Performance and Pedagogy from Westminster Choir College.
Upon earning her degrees, she moved to Philadelphia where she currently lives. As a singer, she has joined Opera Philadelphia as a chorister and the Cathedral Basilica of Saints Peter and Paul as a staff singer. She also self-produced a recital with works based upon fine art entitled The Art Song Recital, which was performed at a local art gallery. Additionally, she teaches voice lessons at a variety of locations in the city, including Philly Music Lessons.
In addition to her performance and teaching work, she is the creator and owner of Operaversity. This website is designed to offer resources to artists and audiences of opera that help them understand opera as a career and as an art form. Additionally, she has written articles for online publications such as Schmopera, Taminophile, Philly Music Lessons, and Synocate.
To learn more about her work, please click here.